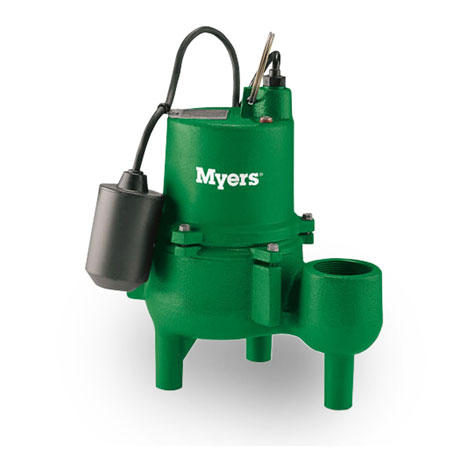 Myers SRM4PC1, .4 HP, 115V, Residential Sewage Pump
The Myers SRM4 series residential sewage pumps are considered by industry pros to be extremely reliable. The specially designed recessed impeller allows 2" solids to easily pass through without jamming. The cast iron housing and volute case handle the harshest conditions and will provide years of service.
Product Description
Applications
Residential Sewage

Dewatering

Drainage
Specifics
.4 HP

115 Volt

Single Phase, 60 Hz

12 Amp

20′ Power Cord

Piggyback Automatic Float

2″ Discharge

Can handle up to 2″ Solids

19′ Shut Off Head

95 GPM Maximum
Performance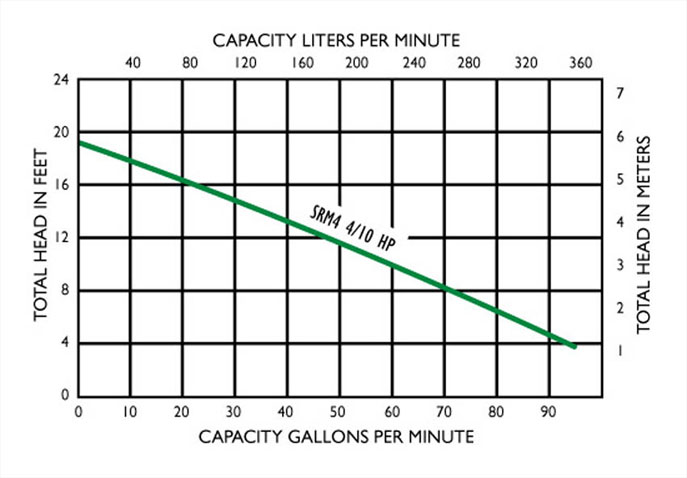 Features
Versatile Applications: Effective and efficient performance in septic tank sewage, effluent and highcapacity sump applications.
Handles the Heat: High-endurance, oil-cooled motor for continuous bearing lubrication and critical heat dissipation.
Powerful Torque: High-torque, permanent split capacitor (PSC) motor; no starting switches or relays to wear out.
Motor Protection: Long-life carbon/ceramic seal provides extra protection against water leaks
Excess Heat Detection: Internal heat sensor provides overload protection; automatically resets when motor cools to a safe operating temperature.
free-flow Design: Recessed impeller design also improves the free flow of solids up to 2".
Longer Bearing Life: Recessed impeller reduces radial bearing loads, increasing bearing life.
Product documents