TRYING TO SAVE MONEY ON YOUR POOL BILL? CHECK OUT THE PENTAIR WHISPER FLO
If you are trying to cut down the cost of owning and maintaining your pool the Pentair Whisper Flo Series is a great choice for you. The Whisper Flo is one of the greatest combinations of Price and Efficiency out on the market today. The New Technology in these Pumps allows more water to circulate in a smaller amount of time. This is one of the main factors that makes the Whisper Flo Pumps consume less energy. Another great thing that comes from the way water circulates through these pumps is how it effects the noise level of the pump. It makes it so the noise level of your pump is very quiet.
Another great aspect of the Pentair Whisper Flo pumps is that they have an integral filter with a clear cover. This makes it easy to check your pump filter and to monitor if there is anything lodged in your pump that could cause issues. These Pool Pumps also give a lot more freedom in regards to choosing when the Pump will run. The Pump is so efficient that you do not have to run it as frequently as most other Pool Pumps. This will definitely help to lower the electric bill.
Here are a few Models of the Pentair Whisper Flo Pool Pumps
Pentair Whisper Flo WF-24
SPECIFICS
1 HP
115/230 Volt Dual Voltage (Comes set on 230 Volt)
14.2/7.1 Amps
1.25 Service Factor
3450 RPM
2″ Suction
2″ Discharge
Pentair Whisper Flo WF-26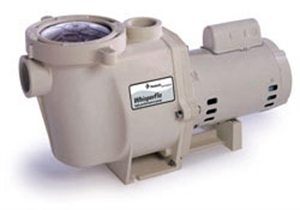 SPECIFICS
1.5 HP
115/230 Volt Dual Voltage (Comes set on 230 Volt)
16/8 Amps
1.65 Service Factor
3450 RPM
2″ Suction
2″ Discharge
Pentair Whisper Flo WF-28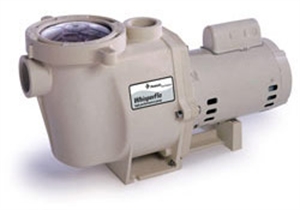 SPECIFICS
2 HP
115/230 Volt Dual Voltage (Comes set on 230 Volt)
22.4/11.2 Amps
1.10 Service Factor
3450 RPM
2″ Suction
2″ Discharge